Including Pedagogy in a Geometry for Teachers Course
Summary: At South Dakota State University, I have the luxury of having only preservice teachers in the GeT course. As a result, I include pedagogy while exploring the geometry content. To make this more clear to my students, I frequently ask them to put on their "teacher hat" or "student hat." This helps them better understand tasks that they will encounter as a future teacher, such as grading and writing directions. I will share a few activities to illustrate how I have them transition between the roles of student and teacher. I will also share information about a FullProof Pilot Study being done this semester in collaboration with Tuyin An, Georgia Southern University, and Orly Buchbinder, University of New Hampshire.
Registration Closed
Duration: 60 minutes
Format: Online seminar via Zoom web meeting software with questions and discussion. Detailed instructions for joining the seminar will be emailed to registered participants.
Presenter: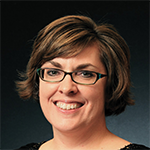 Dr. Sharon Vestal is an Associate Professor in the South Dakota State University (SDState) Department of Mathematics and Statistics, where her teaching and research focus is preparation of high-quality secondary mathematics teachers. She holds an MA in Mathematics from the University of South Dakota, Vermillion, SD, and a PhD in Mathematics from the University of Colorado-Boulder.  Since arriving at SDState, she has served as PI on three NSF Robert Noyce Scholarship grants, totaling over $2.3 million in funding. The SDState Noyce Program has given out $1.1 million in scholarships and produced 69 math and science teachers since 2008.