UROP Symposium – The Future of Research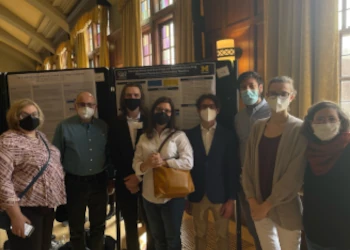 The University of Michigan Undergraduate Research Opportunity Program's (UROP) Annual Research Symposium, titled "The Future of Research" took place on April 20th. It is the culminating event for UROP participants, where the undergraduate students present their research projects to the University of Michigan community. Representing GRIP at this event were Megha Bairwal, Robert Beckemeyer, Hannah Connell, and Jorge Luna, UROP students who joined the GRIP Lab this past year; they were joined by Andrew Spiteri, a GRIP Lab alumni.
The three projects presented were:
Hannah Connell, Jorge Luna, Sharon Strickland, Amanda Brown, and Patricio Herbst. "Investigating the Decision Making of Mathematics Teachers at a Scale."
Robert Beckemeyer, Amanda Brown, Michael Ion, Andrew Spiteri, and Patricio Herbst.
"How Experience and Knowledge Affect the Breaching Patterns of Secondary Mathematics Teachers."
Megha Bairwal, Patricio Herbst, Carolyn Hetrick, Rashmi Nair. "Suave: Students Using Anotemos for Video Engagement."